This page is too small. Edit it a few times to make it bigger!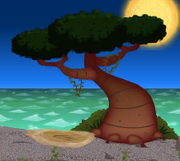 The Rock Island Tree, or Bonsai Tree, is a tree present on Rock Island. It was introduced in Ep 15: A New Home when the island was introduced, and cannot be toggled on or off.
Overview
The Rock Island Tree has no function besides simply making the island look better. It consists of a large reddish-brown trunk that curves up into two smaller branches (each with two branches of their own) that hold large bushes of dark green leaves. Also, green, ivy-like vines hang from the first of the smaller two branches. At the base of the tree, four bulbous roots anchor it in place a large green bush behind it, presumably on the back side of the island, but perhaps in the water. This tree overlooks the T-Rex Egg nest.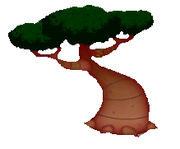 Trivia